FOWL August Author Talk : Phillipa McGuinness
Tuesday 16th August 10:00am - 11:00am
Categories: Featured event, Friends of the Wingecarribee Library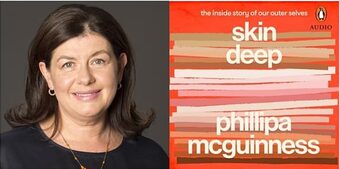 August Author Talk : Phillipa McGuinness
Phillipa McGuinness is the author of The Year Everything Changed-2001, shortlisted for the Queensland Literary Awards and the Adelaide Festival Awards for Literature, and the editor of Copyfight. She has written for The Guardian, the Sydney Morning Herald, Griffith Review, Meanjin and Inside Story. A former book publisher, she lives in Sydney.
Her latest book Skin deep is a book about skin. The strange wonderfulness of our bodily covering. What happens to it when something goes wrong. How the world responds to imperfection and difference. It's about how skin makes us who we are. Skin Deep explores beauty, ageing, imperfection, health and illness, all of which are closely related to skin.

Phillipa McGuinness has interviewed plastic surgeons, dermatologists, burn survivors, beauticians, melanoma sufferers, people who suffer from body dysmorphias, victims and perpetrators of racism, and all kinds of people who are and are not comfortable in their own skin, to write a book where science meets art and culture, history and politics.

Date: Tuesday 16 August 2022
Time: 10.00am-11.00am, with morning tea to follow the talk.
Place: Henrietta Rose Room, next to Bowral Library.
Cost: $15 FOWL members $20 non-members.
Bookings : All tickets are now purchased online via Eventbrite, using credit or debit card only.