Click & Collect – Bowral Library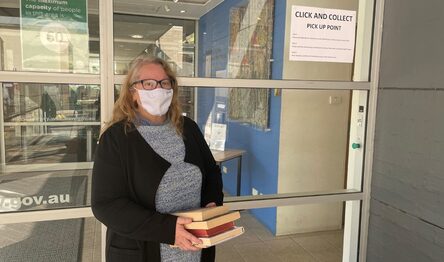 Wingecarribee Public Libraries are offering a Click & Collect Service from Bowral Library from 6 January 2022 between 10am – 3.00pm, Monday to Friday. This service will once again allow people living in the Wingecarribee Shire to escape, create, learn or just curl up with a good book.

How it Works

STEP 1:
Reserve up to ten titles through the Library's online catalogue, through the Bookmyne App or by contacting the library directly to request your items. Remember to make the 'select pick up' location Bowral Library.
STEP 2:
Library staff will contact you once reserved items are ready for pick up. Allow between 2-5 days for your order to be processed. If the items are already on loan or are on reserve this process will take longer.
STEP 3:
Please tell staff if someone else will be collecting your items. Please do not attend the library if you have not been called by Library staff.
STEP 4:
Phone library staff on 1300 266 235 when you arrive at the designated pick up location at Bowral Library. Masks must be worn when collecting material and signing in is encouraged. When picking up your items, please remember to bring your library card/identification and a bag with you. Click and Collect hours of operation are between 10am – 3pm, Monday to Friday.
STEP 5:
Library staff will bring out the items and will place them on the table just inside the front door. Once your identity has been verified by staff through the glass windows they will open the door so that you can retrieve your items.
Please ensure that all your contact details are correct by logging into My Membership through the Renew & Request tile located on the library website. Please contact the library if these details need to be updated or you have forgotten your PIN.
When Picking Up Items
The health and wellbeing of our patrons and staff remains our number one priority so social distancing and sanitising will continue to occur. Patrons are strongly advised to check in. Only collect items if you are well and agree to follow social distancing measures on arrival.
The Click and Collect pickup area is located between the library's electronic returns chute and the front door. A poster will be located on the glass window with instructions for collecting your material.
Do you have to be a member of the library to use this service?
Yes. If you are not a member of the library, you can join online by completing the membership application found on the library website. Follow instructions to become a new member. Once your application has been processed library staff will contact you with your new Borrower ID and you can start ordering books straight away.
Unsure if you are already a member? Please call the Bowral Library on 1300 266 235 and talk with our friendly staff.
Can I return Items to Bowral Library?
Yes. You can return items using the electronic returns chute between 10am-3pm Monday-Friday, while the Click and Collect Service is in operation.
Please call the library on 1300 266 235 for more information, or to request a book!