Local Studies Information Corner
Friday 27 August 2021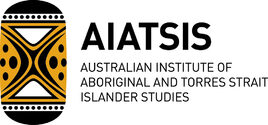 Indigenous Family History - AIATSIS resources
AIATSIS have a range of resources to assist you with your Aboriginal and Torres Strait Islander family history research. See their Family History page here. AIATSIS can also help you find information in the AIATSIS Collection and other collections in Australia.
The Australian Institute of Aboriginal and Torres Strait Islander Studies is the place to go for help researching Indigenous family history. The website has excellent guides for getting started, how to approach your research in a step-by-step way, and where to go to get help.
Visit the AIATSIS website and deepen your understanding of the oldest living culture in the world.
Friday 20 August 2021

Digitised newspapers and becoming a Voluntrove
Effective and accurate local studies and family history research relies on being able to find and access a wide range of sources.
Trove, a collaboration between the National Library of Australia and a variety of partners, is an invaluable resource for digging into local history. This website provides access to billions of pieces of information, from pictures, maps and government gazettes, to reports, diaries and more. Best of all, they're available for free at any time.
Digitised newspapers are great for finding out about the past and there is a range of local historic newspapers available to explore through Trove. These articles can provide a glimpse into what life was like. Articles describing weddings and their attendees, for example, are particularly fun, and help create a rich image of these events, and the social context in which they occurred.
To search for digitised newspaper articles, simply enter your search term(s) in the search box on the Trove homepage, select Newspapers & Gazettes from the dropdown menu and click on the green search icon. You can then click on a result, or refine your results further.
Once you're in the newspaper viewer you might notice that the text in the transcription looks odd, or doesn't match the article being displayed. Here's where being a Voluntrove comes in. Individuals in the community can edit these computer-generated transcriptions, making the articles easier to search in the future.
Trove has a helpful guide on editing articles, including why this is valuable, editing guidelines and straightforward instructions to get you started. You might like to search for articles on a particular local person, place, event or group, and really bring that local knowledge into play. Your efforts can vastly improve the future of research!
If you'd like help editing text, searching for articles or have a burning question about the local area, please contact the library on 1300 266 253, or email libweb@wsc.nsw.gov.au and we'll assist you.
The local studies collection is currently closed in line with NSW Government's Stay at Home orders, but we can help you online or over the phone.
Friday 30 July 2021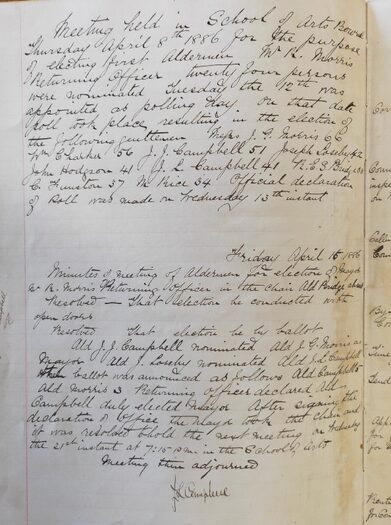 Our municipal history - Bowral Municipal Council 1886
Under the Municipalities Act, 1858, local councils gained wide responsibilities.
They included the provision of roads, bridges, ferries, wharves, cemeteries, water supply, sewerage, public hospitals, gardens and libraries. Revenue was to be obtained via rates and tolls and supplemented by loans. Voting rights were limited to ratepayers.
The Municipalities Act, 1867 provided for the subdivision of municipalities into boroughs and districts, each with designated area and population qualifications. The Municipalities Act consolidated all previous Acts and Amending Acts without altering their main features (see here for more info).
The town of Bowral was gazetted as a municipality on 18 February 1886. The first Council meeting was held in the School of Arts in April 1886.
The following were elected to the first Council: J.G. Morris, W. Charker, J.J. Campbell, J. Loseby, J. Hodgson, J.L. Campbell, R. Bridge, C. Funston and M. Rice. Ald J.J. Campbell was elected Mayor.
The Local Studies Collection holds the minutes from this first meeting. Recorded in flowing cursive and bound in leather, this book marks the beginning of a rich municipal history. in the area.
Shires were established in New South Wales in 1906, and the country around Mittagong and Bowral was then incorporated into Nattai Shire Council. The Burradoo area, previously part of the Mittagong Municipality, became part of the Bowral Municipality in January 1954. The final meeting of Bowral Municipal Council was held 31 December 1980. In 1981 Bowral Municipal Council amalgamated with Mittagong Shire Council and Wingecarribee Shire Council to form the new Wingecarribee Shire Council on 1 January 1981.
For a history of early local government in the Berrima District and Bowral Municipality see LHR994.46/EAR Early Local Government in the Berrima District compiled by J.H. Ford
Visit Local Studies in the Old Town Hall on Tuesday and Thursday afternoons 2pm-4pm and view the wonderful illuminated addresses held in the collection.
Friday 9 July 2021
Ever wondered what an illuminated address is?
From 1870 to 1930, the Illuminated Address was a popular form of presentation made to individuals to mark special occasions such as welcomes, farewells, condolences, congratulations, retirements or to recognize special achievements or outstanding service.
They ranged from the simple to the heavily ornate. Despite this diversity, there was a common language and look to those of the period:
• The wording was very formal and was used to praise the addressee. Words like "gratitude", "esteem", "service" and "appreciation" were commonly used.
• These sentiments were expressed in illuminated script and pages were decorated with gold edging and colours and iconography typical of the book of hours of the Middle Ages.
• Painted or photographic images meaningful to the addressee were also included.
• They were created as a unique historical keepsake for the recipient and as such were often lavishly bound in a gold embossed leather cover with the name of the recipient and date of the presentation also stamped in gold.
• The address was generally signed by notable people of the community.
• They were a unique gift and the time, care, research and expense that went into commissioning one of these works from specialist companies was evident.
Colonial illumination companies used a process which combined manual artistry with chromolithography which was an early type of lithographic colour printing process. It was less laborious than hand colouring, but still required separate plates for each colour, often in excess of 20 plates for each image.
Illuminated Addresses provide a valuable insight into the life of the recipient and also provide a useful and rich historical context to the social life and conditions of Australia and its people in the late 19th and early 20th century.
Visit Local Studies in the Old Town Hall on Tuesday and Thursday afternoons 2pm-4pm and view the wonderful illuminated addresses held in the collection.